Deal Expired
Get your copy of the WordPress plugin that help you build extraordinary sites based on Custom Post Types and Custom Fields without writing PHP.
We all know that Divi WordPress theme is a great option to build beautiful websites. But what if you need a website with advanced features to help it stand out from the crowd? Luckily, Toolset is here to help.
Toolset is a suite of plugins that collectively acts like a Swiss army knife which you can adapt to any industry. Whether you are building a custom WooCommerce site with products, a directory and classifieds site or a membership site, Toolset has you covered. All you need to do is select the Divi design you want (if you are a Divi user) and start adding Toolset's advanced functionalities.
Not coming from Divi? no problem! You can use Toolset on every WordPress site, built with any theme and page builder. Design using your favorite theme and page builder and create custom elements with Toolset.
* You get 30 days money-back guarantee so take the Toolset plugin for a 30 day trial. If you are not completely happy, Toolset team will refund your order and return 100% of this special deal payment.
* You can redeem the discount code and buy Toolset whenever you have a need for it in future. Get this deal now and lock in the special deal price!
Let's take a look at what are some of Toolset's functionalities:
* Add custom post types, custom fields and taxonomies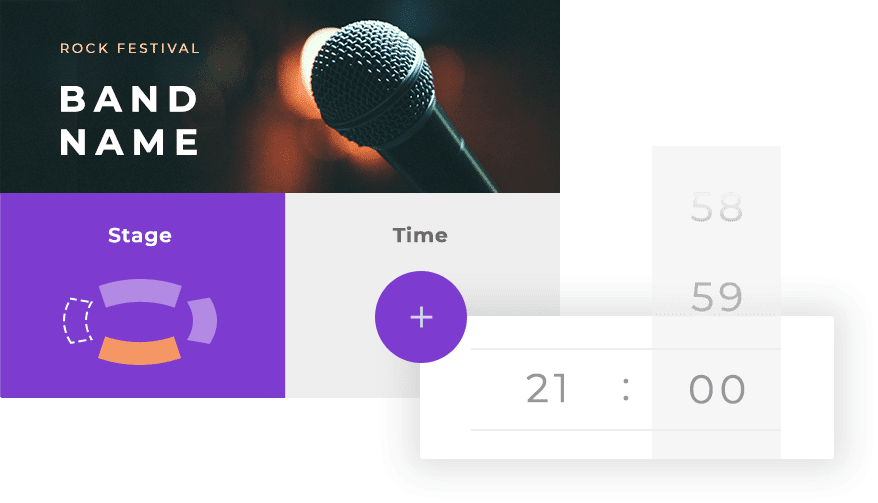 You will most likely need to customize how your site is organized. While WordPress offers you "Pages" and "Posts," you will probably require other sections for your website. Toolset allows you to create custom post types such as "Events" for a live music website.
In addition, you can add pieces of information to each post by using custom fields. For example, your "Events" post will need a "Time" custom field so you can enter when the gig takes place.
Finally, taxonomies lets you organize your custom post types – similar to categories but for your customized content. To illustrate, you might need a "Rock" taxonomy to identify rock bands within your "Events."
* Front-end submission forms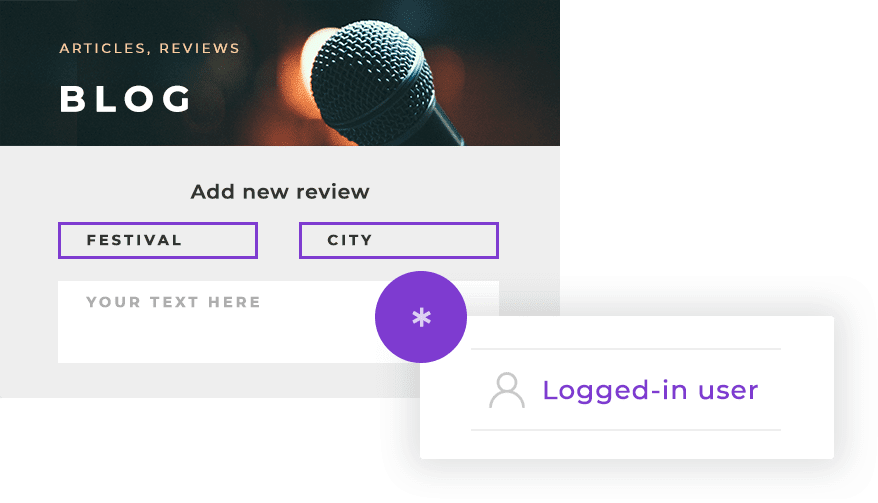 Many websites rely on content from their users, with Toolset you can easily create a form with the necessary fields to allow people to post their own content. You might ask your readers to post their blog articles. With forms you can add the custom fields they will need to fill in so that it appears in the layout you want once they submit it.
* Display content using Google Maps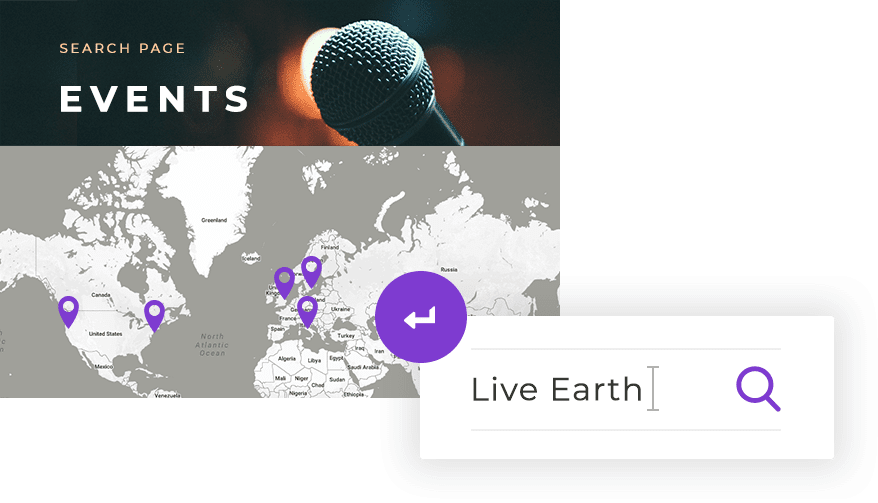 With Toolset, you can show your search content on a Google Map. Given that concert events take place around the world, you might want to let the user see them all on a map so they can identify the ones taking place closest to them.
* Build templates for your archives using the Divi Builder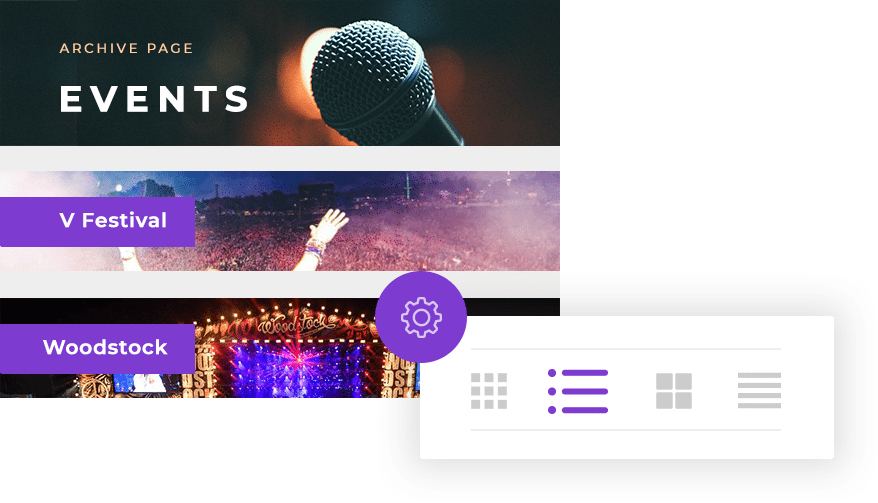 Each of your post types and taxonomies will have an archive page with previous content. By combining Toolset with Divi Builder you can design how individual posts are listed for each of your customized archive pages.
For example, we can build an archive for our "Events" post and decide whether we want to display the results in a Bootstrap grid or any other format.
* Create advanced searches with custom filters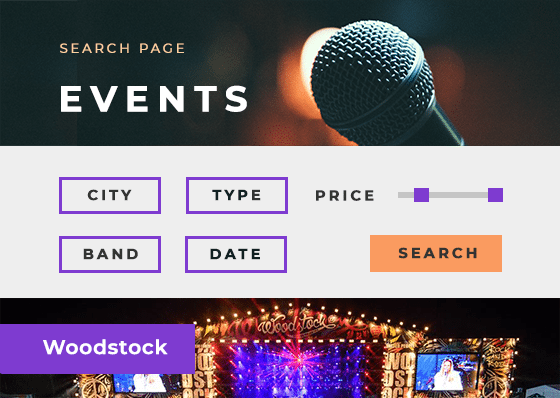 Toolset lets you easily create custom searches which will help users find the exact content they are looking for. For instance, when looking for events, users can filter the "Events" post search based on the type of music, when the event is and how much it costs etc.
* Control access to your content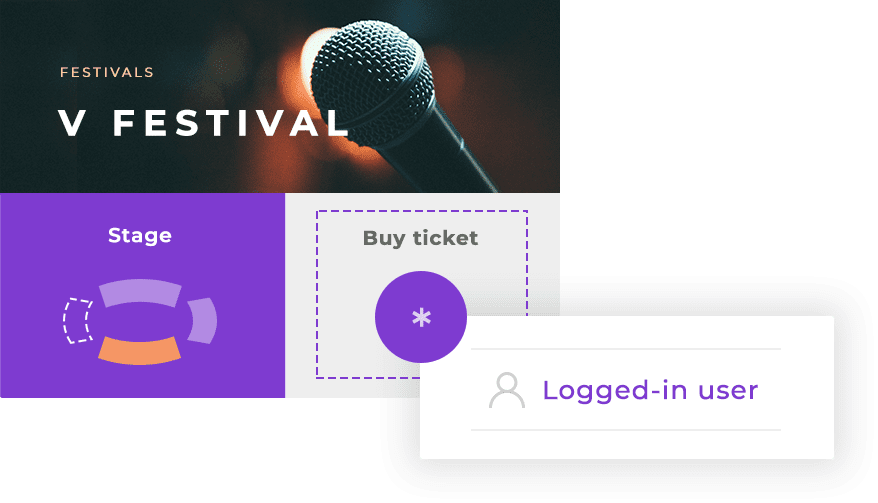 Websites which have exclusive areas for members will need to be able to control who accesses them. Thanks to Toolset Access, you can allocate permissions for certain users based on their status. On our music page, for instance, we might only allow registered members to access ticket sales.
* Post relationships to connect your data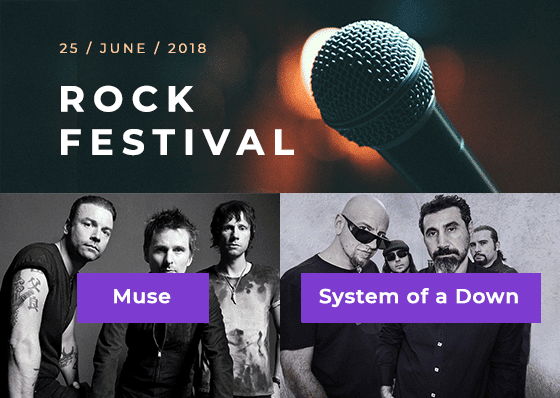 Post relationships make it easy to connect items from different custom post types with each other. Therefore, you can avoid data duplication as each piece of information only needs to be edited once for it to change wherever it appears on your website.
One of the relationships is a many-to-many relationship which allows you to connect multiple different items from two custom post types with each other. To illustrate, on your live music website, you can connect multiple "Bands" with an "Event" to show they are all performing at the same concert and vice versa.
* Custom list of content
Within your pages, you might need customized lists of content to display certain post types, whether that's on the side or within the body. With Toolset, you can display that list anywhere you like on the front-end. For example, you might want to display a list of the most recent events on your homepage.
On average Toolset users charge minimum $5,000 to build client sites. It's widely regarded as one of the must-have tool in every WordPress web designers toolkit. With this powerful plugin you can build websites for any industry from e-commerce to real estate agents, travel and many more… Wanna know how others use this plugin? See this graph: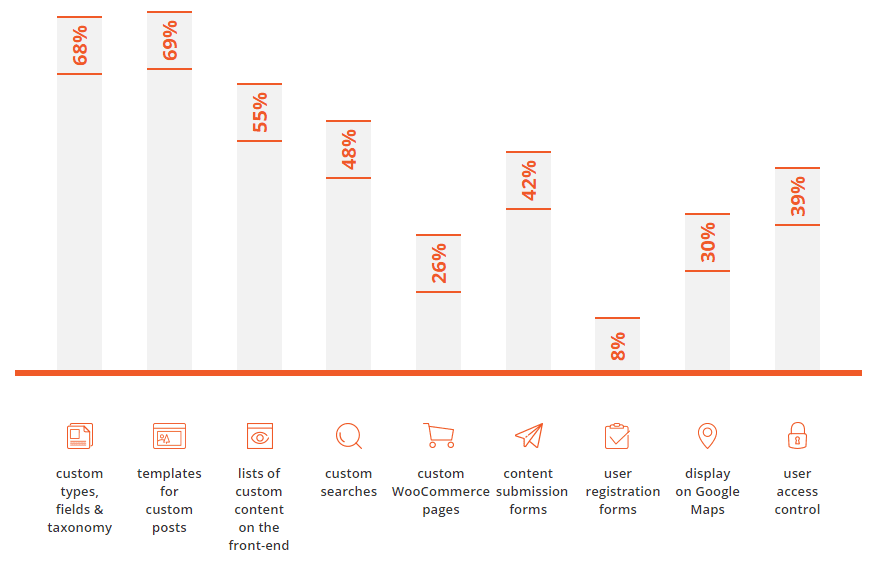 Do you like to see an example use case now? Check this tutorial video on how to creates a complete custom search for properties with text and Google Map display, in a few minutes.
In this deal, Toolset team offer our Hus-lings a special discount for their popular Agency Unlimited sites ($149 value) plan. They agreed to give us 34% discount from this higher tier all inclusive plan (highest discount they have ever given) so you'll be able to grab a copy of this powerful plugin for just $98.34. You get one year support and update with this package. They also give 25% discount on yearly renewals. As with all WordPress products, Subscription renewal is only necessary if you need continuous support and updates… Otherwise you can just use the plugin for life without any restriction. They give you 30 days money-back guarantee so buying this deal is risk free!
As part of the offer they plan to do several live sessions to our group. They will teach you how to use the plugin and build very complex sites with Divi – We arranged you to buy "Toolset for Divi" addon plugin as an up sell with this offer.
Toolset for Divi lets you style custom fields, post and archive layouts. You can build stunning, reusable layouts using the styling feature from the Divi Builder.

So what are you waiting for? Time is running out to get your membership for the discounted price and when it does, you'll be out of luck and have to pay full price… so grab this deal while you can!
Need more Information? Check these Resources,
1. Test Drive free Toolset Types WordPress plugin: Download (More than 200k downloads) | Test Drive Facility
2. Take the Toolset Tour
3. Learn How to Create PHP-Free Custom Post Types Using the Toolset Types Plugin – Elegant Themes Article.
4. See the Showcase of websites that are powered by Toolset plugin.
5. Get Divi Add-on plugin for Toolset with a big disocunt
6. Complete documentation on using Toolset with Divi Theme
Key Info
You need to GET this deal from our website and BUY it at Toolset site
You can redeem the discount code and buy Toolset at anytime in future
Lifetime Usage License for All Toolset's Components and Features
One Year Updates and Support – 25% discount on yearly renewals
Access to the members-only support forum and documentation
Use Toolset on as many sites as you want
30 days money-back guarantee
This deal is brought to you by toolset.com
Deal Specs
* The discount is available for Toolset's Agency package, giving you one license that can be used for unlimited number of sites. Plugin comes with lifetime usage license and 1 year updates and support. Yearly renewal (25% off) is only require if you need further support and updates after year is up.
* During the checkout process you will get an offer to buy "Toolset for Divi" addon plugin as an up sell.
* When you got the deal from our site you will receive a link to the special offer page with instructions on how to redeem it.
* Once you receive the link (check under voucher code field) visit the Toolset site and make the purchase with the applied discount.
* These deal discount codes have no expiration date set but we recommend to redeem it within 1 month period to avoid any issues.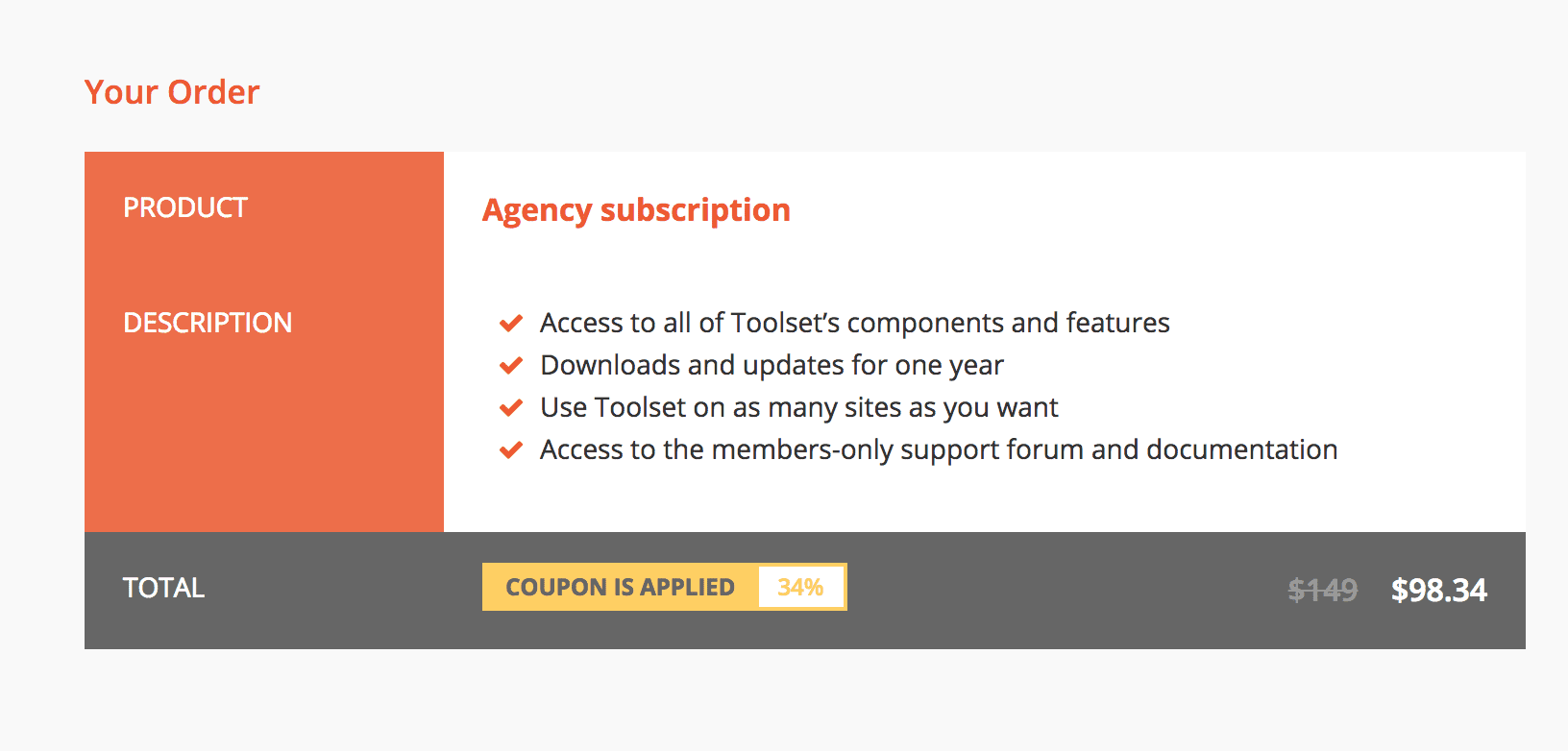 * 30 days money-back guarantee.
Only logged in customers who have purchased this product may leave a review.