In our previous article, we looked into the nature of the freelancing space and the way it works, along with different online freelancing platforms to find clients and conduct your work. We also discussed how to navigate through the challenges and obstacles when you take your first steps towards becoming a freelancer. In this article, we will discuss on how to get your first client, and how to grow your freelance business from there on. We will explore strategies to attract clients and how to keep them as return buyers. Also growth hacks to overall grow your freelancing brand name.
Before we go ahead any further in this article, let us take a glance at how we have structured our article. This way, it will be much easier for you to grasp the concepts and strategies discussed throughout this article.
Understanding the Competition and Market Factors
Getting your First Client
Retaining your Clients
Growing your Reach for brand awareness
Defining and Measuring your "Success" as a Freelancer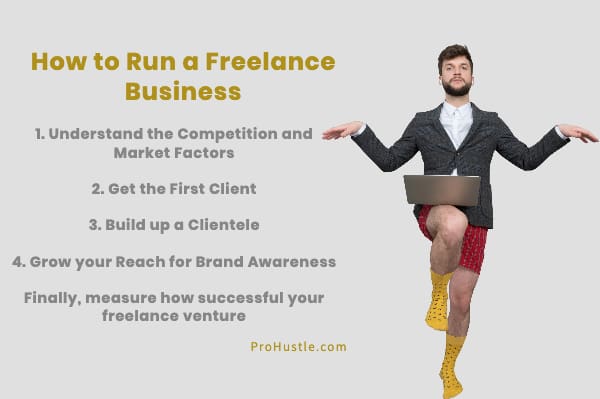 Understanding the Competition and Market Factors in the Freelance Niche You Choose
Once you know whom you will become and what service you are going to provide as a freelancer, then to grow and prosper in the market, you have to understand the fierce competition and the market factors of the online platform you are going to offer your services in.
Basic Market Stats
For example, it is very useful to know how many freelancers are there in the online marketplace you have chosen to associate with. for example, both Fiverr and Upwork have millions of freelancers from diverse categories.
Then you have to narrow it down to the service you are providing. For example, if you are a freelance copywriter, then it is useful to know how many freelancers are providing the same service. How can you find this out? Every major marketplace, such as Fiverr and Upwork, has an option to "search". You will see this once you visit the websites. Simply type in as usual and search.
Pricing
After gaining a basic idea about the numbers, you will have to analyze the prices range that these freelancers/your competition charge. You can see how many projects they've done and how long they have been in the marketplace once you register on any of these platforms.
As a newbie to the platform you cannot price your services at the rates offer by more experienced, highly rated freelancers. Seek for relatively new freelancers, and price your services in the range of the newcomers.
Price functions as an important element of client attraction and setting it right will be the first step of getting the clients towards you.
SEO and Keywords
Another market factor that you must have a thorough understanding of is keywords and search engine optimization. Just like all the search engines such as Google and Bing have algorithms that track keywords and give the best result, these online freelancing platforms have search engines as well. Clients search for services using the search function. Identifying frequently used search terms and optimizing your listing around those keywords is one of the key aspects of getting visibility for your service offering.
The obvious question from your end will be how to find best keywords in your freelance niche. For that, you can visit forums and help pages of freelance platform to read about this subject. There are lot of blog posts and YouTube videos covering this subject too so we are not going to discuss this topic in detail here.
Profile Completeness
Once you register with an online freelancing platform, you will have to build a freelancer profile, much like Facebook. Here, for the service that you are providing, you will have to find the most popular and often used keywords and then include those terms organically (which means "sounds natural") in your headlines and descriptions. Also, remember to complete your profile with all the relevant information with regard to what your offer includes and what it doesn't.
Getting your First Client
Since we give special attention to Fiverr and Upwork platforms, as they are considered the most reliable and top freelancing platforms/shops, most of the strategies and tips we will discuss in this section will relate to these two platforms. But, they will work on any other platform as well.
Proposing Your Freelance Service
To understand the importance of proposals properly, first, we have to learn a lesson from a real-life scenario. For example, why is it that you buy a product from reputed shop? Or why is it that you go to a specific doctor when you are ill? Here are some of the considerations someone take into account when making purchase decision,
Reliability and reputation of the product and the shop that it sells.
Pricing of the product.
The way buyer "feel" about the product.
The specialist nature of the product to satisfy buyer's requirement
To influent buyer's purchase decision sellers need to "Communicate and Promote" their "Brands", How it it different from others, and Prices in clear, creative, and efficient manner. In Upwork online job marketplace where clients put up their jobs up for competitive bidding you will have to send proposals in a way that it gets their attention.
in Fiverr you do not send proposals, but in your profile, you create a "gig" (a service offering) that clients will see when they search for the services they need.
The client will only "feel" positively and select you for their project if you communicate to them what you offer clearly, efficiently, and creatively. Remember that creativity is incredibly important as it will help you stand out from the competition.
Submitting a Proposal
When writing a proposal, always sound natural. Never use a standard template for proposals. With every client, always customize what you write and how you write it. This is because we are dealing with people, and each of these client is different. This custom tailor made approach can increase the chances of selecting your proposal.
Consider your proposal as you are pitching your business to a customer. Your "pitch" must be formidable, you must include what you offer and how you can add value to your client. Also, you must let your client know that you have perfectly understood the requirements of the project. Mention this explicitly in the proposal.
Make sure to write the proposal in a way that conveys to the client that you are a reliable partner that can be trusted with this kind of work for the long-term. As a freelancer your aim always should be to have as many repeat clients as possible. This is the only way to have reliable source of monthly income in this freelancing space.
Listing your "Gig"
When it comes to creating a "gig", on Fiverr and or on any platform, always give a priority to its "aesthetics" and appearance. Much like creating a "Brand", make use of colors, shapes, pictures, and graphics. And remember not to overdo anything as well. Along with including catchy phrases and all the necessary information, make sure to have an enticing thumbnail for the "gig".
Be Consistent and Committed as a Freelancer
Because of the competition, all the other freelancers in the marketplace try different tactics to get ahead. And that is why you need to be consistent and committed. Try submitting proposals to different clients, try changing feature images of your gigs, check your SEO strategy and optimize for new keywords that you may be missing out on. Keep trying and never despair. The more you try, the higher the chances of getting clients.
Diversify Your Offerings
Related diversification is one of the most important yet often over-looked growth hacks in the freelance space. What this means is that apart from your core skill or the service you provide, you must gradually try to diversify your talent pool.
For example, if you are a video script writer, it is in the best interest of you if you can learn some video editing or sound editing for videos. Or you can learn some basic graphic designing techniques and provide the service of creating attractive thumbnails for videos.
Tips to Keep your clients
Remember, the customer is king! First impression is vital when you are pitching anything to a potential buyer. Once you successfully converted a potential customer into a paying customer thereafter its all about delivering great experience. Here are 3 ways you can do this,
Update Regularly
Courtesy and Respect
Continuous Improvement
Remember to keep your clients updated with the work they have submitted to you, and always check with them if they need any revision. Continuous communication, feedback, and adjustment of work are of utmost importance in this regard.
Be kind and respectful. Remember, all clients are different. And some may sound rude or unreasonable. But always keep your cool, be calm, and very cautious before communicate with them, sometimes the most painful clients become the best, long-term ones over time.
Keep improving Quality, but be cautious when increasing the prices. Over time you must increase prices as a freelancer, especially when you gain experience. But do so slowly, have a gap between price increments, and do increase slightly at a time.
Growing your Reach for Brand Awareness
Growing your reach simply means increasing your influence and your presence through various mediums so that you are more exposed to potential clients.
Increase your social media presence
Network with other freelancers
Update your portfolio regularly
Become Certified
Get client feedback and positive reviews
Improve your social media presence
Have dedicated pages for your freelancing business on popular social media networks like Facebook, Twitter and Instagram. You can also maintain a YouTube channel to demonstrate your expertise in the subject matter.
Facebook groups can be the most effective way to find potential clients. You can build up reputation inside these groups by being helpful. You can pitch your services to the members in case if they want more help from you. Once you are seen as a authority in the community people will reach out to you privately for help. This way you can ditch thirds party commission based job marketplaces to find clients.
Network with other freelancers
While this could be challenging as a beginner, over time and with the work you do, you will be able to meet new freelancers from different backgrounds. Try to network with them and keep a healthy professional relationship with them. You may be able to collaborate with them to offer unique value-addition services to clients. Freelance events and meetups could be useful for networking.
Update your portfolio regularly
Showcase the projects you have completed in your profile. This will help potential clients evaluate your skills and see if you are a fit for what they are looking for. Your portfolio is your greatest, long-term asset!
Become Certified
Valid certification proves you are a master regarding the subject. Even recent studies have shown that a majority of clients prefer those who are certified to those who are not. These days, there are many ways to get yourself certified without draining your wallet. Google Digital Garage, Udemy, Coursera, Skillshare are some of the options. If you have a college degree or some other educational certification/background that goes along with the service you provide as a freelancer, then its much better!
Get client feedback and positive reviews/testimonials
Positive, admiring, and enthusiastic reviews and testimonials from your clients will be one of your greatest assets. But, to get such reviews, you must deliver the work above and beyond the expectations of your client.
Once you get your client testimonials, be sure to display them on the top of your profile or website. Remember, nothing speaks more of your quality and character than the genuine experience of your past clients.
Defining and Measuring your Success as a Freelancer
Before learning about becoming successful, first, we have to define what it means to be successful in the world of freelancing. Different individual freelancers can have different definitions of success, yet it will be much easier for you to understand this if we build our own, general definition and a criterion for this.
To be successful as a freelancer means to earn enough money at a reasonable effort that allows someone to live a happy life freely.
by that simple definition, we can now define "success" from a freelancer's point of view. A successful freelancer must,
Earn enough money through freelancing alone without engaging in another profession
Spends relatively a short period on earning and has enough time for his family and loved ones
Delivers quality work, and his reputation keeps growing
Has a loyal clientele
Now that we know what it is to be successful as a freelancer, let us now examine another equally important aspect of being a successful and growing freelancer, measuring the success of the freelancing business. You can employ several vital measurements to track the success of your freelancing business easily. They are,
Number of clients and their budget
Naturally, the higher the number of clients, the better. More clients mean more revenue.
But, the budget or the ability of the client to pay a higher price for the freelancing work must also be taken into account. Having more clients who can pay more will increase the revenue of a freelancer exponentially over time.
Number of projects and work receive and their worth (the amount paid for the work)
One client can give multiple projects and tasks. So, the number of projects a freelancer receives changes depending on the client base.
It is important to remember that having more projects itself is not a good measurement. Having more "high-paying" projects is the key to success and to earn more money.
Number of returning clients
If many clients are coming back repeatedly to get the services of a freelancer, it means two things. 1. is that the quality of the freelancer is up to the expected level of the client, 2. is that the freelancer is reliable and trustworthy. These are essential characteristics that must be present in a freelancer should he or she is willing to grow in the freelancing industry. The most powerful asset a freelancer has his/her reputation and brand name.
Amount of money earned
This is an obvious tool of measurement. But you must correctly understand the amount of money earned (revenue) and it's relationship with time.
If you earn a higher revenue in a shorter period, that is better. Also, for freelancers, the "monthly paycheck" does not exist. They get their income depending on the work they complete. For them, more projects and work completed within a shorter period will increase their earnings.
Amount of time spent as a Freelancer
As you can see from the point mentioned before this, there is a stark connection between the amount of time spent on the amount of money earned.
If we look at it from an analytical point of view, we can say there is an inverse relationship between the amount of money earned and the amount of time spent.
The freelancer must have a clear understanding of this relationship and must always try to maximize the earnings at a reasonable minimum time, without lowering the quality of the work.
Summary
In this article we shared some of the most important, widely used, and time-tested strategies to grow as an independent freelancer. Now that you have a complete understanding of the online freelancing space (covered in the previous article) and how to take your first step, we suggest you apply what you learned here and put it to good use. Stay with us and visit us often for more educational articles like this.