Today, gaming YouTube channels featuring video game walkthroughs, Let's Play (LP), are no big deal. But in 2006, when YouTube was introduced, gaming videos were not a popular niche. Comedians and vloggers dominated the platform, and game play video content was practically unheard of. PewDiePie, aka Felix Kjellberg, is a Swedish content creator who rose to success in a few short years with gaming video content. PewDiePie has a Guinness record for being the individual YouTube channel with the highest number of subscribers. It is the fourth YouTube channel with the most subscribers in the platform, with 111M subscribers at the time of writing this article.
PewDiePie was also among the 100 most influential people in the world, named by Times magazine in 2016. At present, the channel is not very active as it used to be in the past, but according to YouTube's data, it still gets millions of views every month. In this article, we will look at the success story of PewDiePie.
PewDiePie Success Story
Felix Arvid Ulf Kjellberg is globally known by the name of his YouTube channel, PewDiePie. He was born in 1989 in Gutenburg, Sweden. As a child, Felix was passionate about drawing and video gaming. He loved creating photoshop art of gaming characters like Super Mario and Sonic. He bought his first computer with the money he earned with Photoshop drawings.
After completing his schooling, he joined Chalmers Technical University, but even in college, he spent most of his time video gaming with his friends and creating art. In 2011, he dropped out of college and focused on creating content on YouTube. Meanwhile, he worked as a hot dog seller.
Felix started his first YouTube channel in 2006 – a channel titled PewDie. But on April 29th, 2010, he had to create a new YouTube channel because he forgot the password to his original channel. This is how the popular channel PewDiePie came to be. In the first few years, he created gaming videos with commentary in the background. He started with games like Minecraft and Call of Duty, which were popular at the time. In 2012, the channel exceeded 1 million subscribers. On August 2013, it became the most-subscribed channel on YouTube (this record is now held by T-series, an Indian music video channel).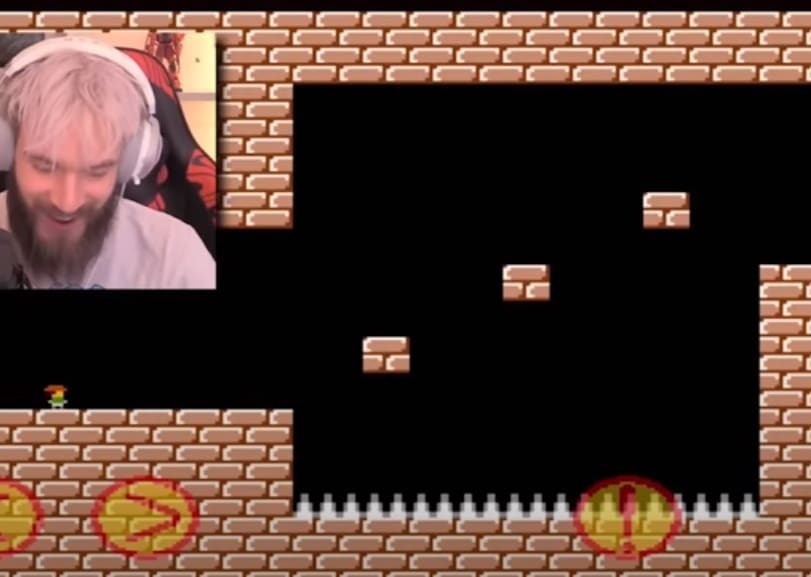 With this success, Felix gradually began to move away from gaming content and started uploading various types of content like reaction videos, memes reviews, reviewing current topics, fan fiction videos, and chatting with the audience. This is an important lesson about content that everyone can learn from PewDiePie. When PewDiePie started his channel, he did not upload anything and everything to it. He only created videos related to his niche, i.e., gaming. It's only after reaching millions of fans that he started to diversify content and expand his channel.
Another secret behind his success is his consistency. He uploaded at least one video to the channel every day, which would make 7 videos per week. The more videos his channel has, the more content to attract new subscribers and viewers.
From 2014 to 2017, PewDiePie's channel remained the most-viewed channel on YouTube. In November 2020, Felix announced his semi-retirement from YouTube. However, he continues to upload videos frequently, but not daily. In 2022, he moved to Japan with his wife Marzia, and much of his video content is now based on their daily life in Japan.
Strategies PewDiePie Used to Grow His YouTube Channel
Starting a YouTube channel and growing it to get views and subscribers are two different things. Anyone can start a YouTube channel, but you need a well-thought plan of action and cleaver strategies to grow your audience and become popular. Per our analysis, PewDiePie has used four main strategies to grow his channel.
Strategy #1 : Games + Fun
PewDiePie's videos were not just about gaming. These videos make the audience laugh out loud and have fun while watching him play. It was the combination of gaming and comic/funny commentary that made his videos popular. This combination is highly addictive and attracts views like a magnet.
He mainly used action and horror games. When playing horror games, he used funny subtitles, creating a type of video called scary moments with funny subtitles. It was his videos on the horror game Amnesia – The Dark Descent that triggered PewDiePie's success.
Strategy #2 : Algorithm
In the beginning, YouTube placed more importance on views. Videos with a high number of views were made more visible by the YouTube algorithm. As a result, some channels started using clickbait thumbnails, which were totally irrelevant to the video. This started majorly affecting the user experience on the platform. This was when YouTube started changing its algorithm to give prominence to watch time. How did this affect PewDiePie's growth?
From the beginning, PewDiePie uploaded 10-minute videos. But since his videos were a combination of gaming and comedy, viewers had no problem watching these videos for ten whole minutes.
Strategy #3 : Funny Memes
PewDiePie did not forget to insert funny things like memes into his normal gaming content. This made his channel more entertaining. Over time, the name PewDiePie began to be synonymous with entertaining Let's Play videos genre.
Strategy #4 : Personality
If you compare PewDiePie's early videos with his latest videos, you can see a drastic difference in his personality. In his early videos, he was not very confident, and the thumbnails of the videos were just photos of the games he played in the video. As time passed on, he grew more confident on screen, and the video thumbnails started having his face. PewDiePie grew from a content-driven channel to a personality-driven channel. Now Felix can upload any type of content, whether they are music, sports, reactions, or comedy. This is because viewers now watch his videos because they are fans of PewDiePie, aka Felix Kjellberg.
How Did PewDiePie Built His Audience?
Building a channel is totally different from building an monetizable audience. Building a community require more personal touch. So how did PewDiePie was able to build up a large community?
As his videos became more and more popular, Felix started to realize that his fans sought closeness and interaction. So he started a new type of video called 'Friday with PewDiePie'. These special community engagement videos were posted every Friday.
The videos he uploaded were in various formats – vlogs, question and answer sessions, challenges made by subscribers, and compilations of best game play moments. Using Omegle, an online video chat platform, he conducts live chat sessions with his fans. He record some of the best moments of these chats and feature them in weekly videos. He also read fan tweets and open fan mails he receives, showing gratitude for the community.
PewDiePie's fans have created an online forum for discussions. Once Felix got to know about this forum, he promoted it through his videos. His fans are known as the Bro Army. Felix often meets fans at charity events and raises money for various causes.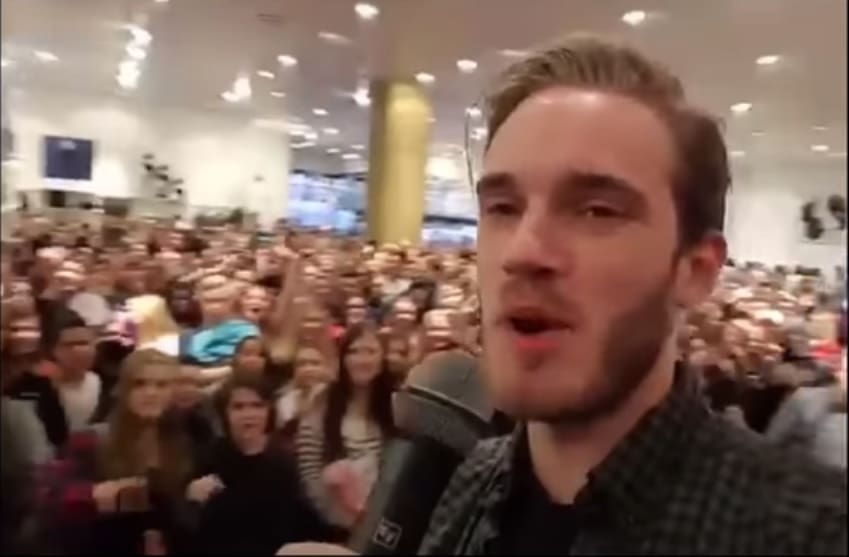 In 2015, he created an online store to sell his merchandise, including caps, t-shirts, and backpacks. The PewDiePie Clothing brand includes many fashion products and clothing related to his channel. Selling YouTube merchandise is not a new trend for us now, but back in 2015, this was a brand-new concept.
He has also a published a book – This Book Loves You. This is not a self-help book or an advisory guide but a funny book in his own style. In 2015, he also released his own mobile game – PewDiePie: The Legend of the Brofist, which went on to become a bestselling game.
As you can see, PewDiePie has a very monetizable and loyal fan base. Its the reason why Times magazine named him one of the most influential people in the world. He was once featured in an an episode of popular animated television series South Park!
PewDiePie's Guide to be a Successful YouTube Content Creator
PewDiePie has shared several valuable tips and tricks for beginners on YouTube. Let's now look at some of these.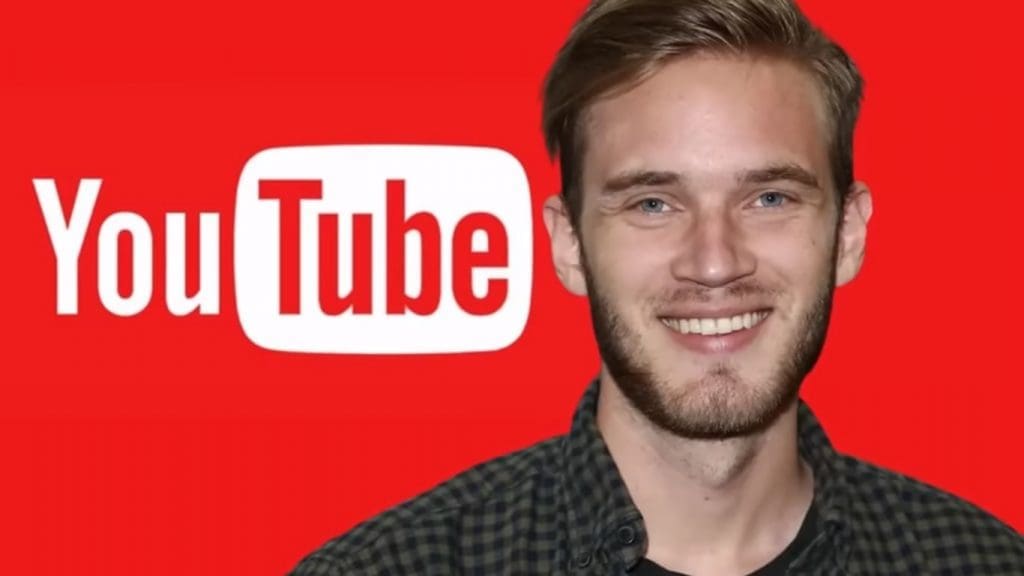 Equipment you have now is the best equipment in the world!
Most beginners assume that they must buy costly equipment to become successful on YouTube. But this is not true. Some of the most popular channels on YouTube today started with basic computer webcams and smartphones.
So you have to believe that what equipment you have now is the best equipment in the world. If you don't have a video recorder, you can record a video with your phone; if you don't have a mic, go to a place with fewer sounds (for example, inside your vehicle) and record with your phone; if you don't have editing software, you can use free editing apps on your phone to edit videos. As long as you are creative and innovative, nothing can stop you!
Stand out from the crowd
Don't copy others' content or follow new trends blindly. Create your own unique content and create a new trend. Always try to think about how you can create videos that stand out/differentiate from others.
When PewDiePie started his channel, Call of Duty was a popular game, but there were no videos on it on YouTube. Neither were there any funny videos on horror games. It's his combination of game walkthrough videos and funny commentary that made his videos different from other similar contents.
Maintain your audience
Yes, it's difficult to reach the top, but it's more difficult to stay there. With social media channels like YouTube, you can only remain in the top position by maintaining your audience. To retain viewers and subscribers on your channel, you have to give them what they want. This is why you should always consider what your audience wants before considering the YouTube algorithm. What does this really mean? Don't create videos focusing mainly on YouTube algorithm; create videos that will satisfy your audience. There are some creators who misuse SEO, tags, and metadata to get more reach and views. However, these malpractices cannot help you in long-term success. If your audience is happy with the content of your videos, the algorithm will definitely work in your favor.
Before you create new content, think twice about how it will affect your audience. Will this content make your audience happy? Will it teach them something new?
Channel Marketing Methods
Almost all popular YouTubers have gotten a helping hand/shout outs from somebody to reach the current level. One of their videos may have been posted on a high traffic website, recommended by a celebrity, started trending on Reddit, or shared by people who has large social media presence, etc. Getting this helping hand on YouTube is not essential, but it will help tremendously to get traction. The hardest part of YouTube is to establish an authority in a niche. But remember, a shout out can only get you so far. You have to keep creating interesting content and working hard to keep your audience hooked to your content.
You also see new content creators commenting on the comment sections of popular videos. Felix finds this practice disrespectful and annoying. If you really care about growing your channel, you have to market yourself, but without becoming a nuisance to others. There is no 'best' method for marketing – it would depend on a lot of factors like your niche, target audience, as well as your personality.
Conclusion
Like most YouTube stars, PewDiePie started his channel and uploaded videos just for fun. But in a few short years, he became one of the most popular YouTubers in the world. There are many reasons behind his success. His unique combination of video game walkthroughs and comic commentary, consistency in video uploading, timely decision to diversify his content, and building a strong community contributed to his success greatly. There are many lessons new online content creators can learn from PewDiePie's path to YouTube success.
If you enjoyed this article then you may also like to read our case study about MrBeast.